The collection
The historical archives at Salisbury Hospital range from the 1760s to present day and include the General Infirmary, Odstock Hospital and many other sites around Salisbury, they provide a fascinating insight into medicine, healthcare and social history of the city for the past 250 years. In December 2015, ArtCare were successful in a Heritage Lottery Fund bid for £40,000 towards sorting, recording and sharing the historical archives and collections relating to health care in Salisbury.
Before the Heritage Lottery Fund project started, our collections were badly stored in various locations, recorded in a haphazard way that didn't allow easy searching and digitised in formats that weren't compatible with website searching; and we knew that there was more material out there – yet to be found! We certainly had a huge job ahead of us.
The task ahead
First off was to provide training for staff and volunteers on good practice advice. Lesley Self, ArtCare's history project lead produced Documentation Guidelines to work from that followed museum standards on the best way to record, handle and catalogue items. We had some painstaking and methodical work to be undertaken by a team of really committed volunteers. So far 15 volunteers, who have directly worked with digitising and recording the collection, have donated over 1000 hours of their time to the project.
Over 3000 photographs digitised and catalogued
Over 500 objects and ephemera carefully stored away
Exhibitions, workshops, community events and talks
Thanks to the Heritage Lottery Fund we were able to invest in some new archive boxes, photographic wallets and packaging materials for objects. Our storeroom now also has humidity and temperature control, which means that the archives are protected in a much more stable environment. ArtCare was also able to invest in new computers, MODES museum software, scanning and photographic equipment to record and catalogue the items.
As well as sourcing and pulling together items stored around the hospital site, we had significant new donations of materials. Items included over 200 objects donated by the Pharmacy ranging from medicine bottles to scales and equipment; archive photographs and clippings relating to Salisbury Carnivals and photographs, plans and ephemera relating to the Spinal Injuries Unit. We also rediscovered the archives relating to the early days of Salisbury General Infirmary and the appointment of the first hospital matron in 1766/7.
Permanent displays
The hospital site is a busy and teeming environment, which means we have to be creative on how we display our historical items. So far, we have several new displays including the focus on nursing and Florence Nightingale on Level 2, Nunton Entrance; the re-display of the Salisbury Embroidery and the colourful photo timeline panels leading along the exterior walkway into the hospital at Level 2, Springs Entrance. You can also 'travel back in time' if you take one of the six differently themed lifts. Each lift interior has been clad in a selection of interesting photographs from the archives. This work was sponsored by Salisbury Hospital League of Friends.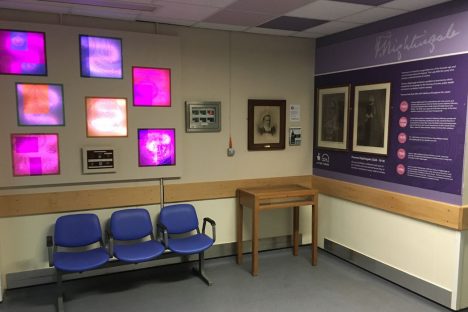 Collaboration and sharing
Our work has been supported by Wiltshire Museum Service and Wiltshire and Swindon Archives at Chippenham. We have also been able to share and contribute material for other projects including the 'Wiltshire at War' website as well as pins on the 'Know Your Place' Wiltshire map and the 'Secret Spitfires' film project.
In July 2016, ArtCare received a visit from Salisbury MP John Glen who was interested to find out more about our historic collections and plans for developing our collections. At Christmas 2016, we were able to research and share material with Woodgreen Village Hall who have some wonderful murals from 1930s that include Salisbury Infirmary.
We have appeared on That's TV Salisbury – you can watch the item on YouTube. Salisbury Healthcare History has a dedicated Facebook page where you can keep up to date with news.
On ArtCare's website you can find details about our other projects at Salisbury District Hospital and much more. You can also find ArtCare on social media – Facebook, Twitter and LinkedIn and Pinterest.
Schools programme
ArtCare have created some exhibition loan panels, handling box items and a series of teachers packs as resources for our history workshops with schools. Themes include Medicine from War, Nursing, Florence Nightingale, Science and technology, World War II and field hospitals, Uniforms and Women's Roles. So far workshops have been delivered to Woodford Valley School, Longford School, Old Sarum School and Larkhill Guides. In 2017, we are embarking on a project with regular contributors Burgate School whose A Level students will be designing an exhibition entitled 'Heroes and Inspiration'. This takes its impetus from the International Nurse Day celebrations we held here in 2016 and 2017, during which we asked nursing staff who or what inspired them into healthcare.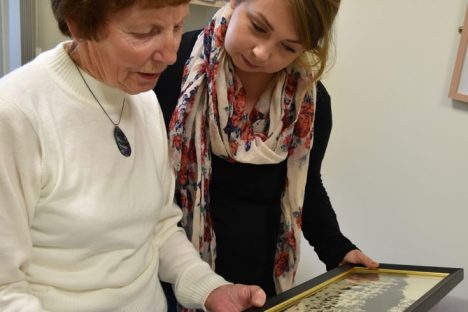 What's next?
We have created a selection of touring exhibition panels available to loan for events. Contact us to find out more about hosting our display and opportunities to view it in other community venues. If you'd like to know more about history project events, are interested in hosting a talk on an aspect of the collection, or would like to volunteer with ArtCare please email project lead lesley.self3@nhs.net or call on 01722 336262 ext 5618. For more information on ArtCare visit our website www.artcaresalisbury.uk